Courtesy Call Embassy of Japan – 19th of February 2016
SWYAA Sweden has had the great fortune to be specially invited to the Embassy of Japan in Stockholm twice during 2016. On February 19th 2016 we were received by Mrs Sayaka Shingu, the current Cultural Attache. The Courtesy Call to the Embassy of Japan was a great success. We had the opportunity to meet with members of the newly appointed Ambassador's staff and inform about the SWY-programme, the SWYAA International and SWYAA Sweden. We also discussed the upcoming Tokyo Conference and the aim of this global meeting.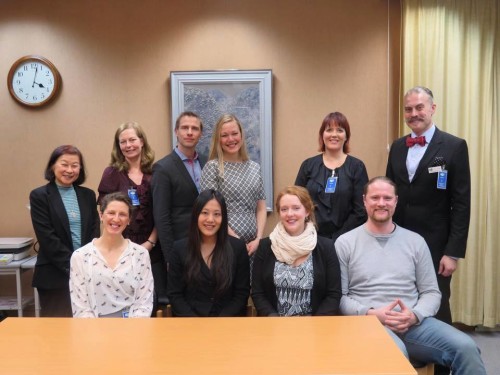 Caption: Please note that ALL BATCHES ever sent from Sweden were represented during this Courtesy call: Back row from left: Noriko Maria Gidlund (SWY4), Wiktor Södersten (SWY10, NL SWY18), Patrik Hurtig (SWY18), Annelie Börjesson (SWY18/Advisor SWY21), Ulrika Johansson (SWY18), Carolina Hawranek (SWY23), Per Örlander (GLDP) and Anna Edlund (GLDP).
Ms. Sayaka Shingu was very interested and announced that she will try to recommend another meeting with the ambassador after the conclusion of the Tokyo Conference (which was arranged on May 27th 2016).  During February 19th the Ambassador himself was in Japan, travelling with His Majesty the King of Sweden and a delegation of politicians and scientists.
Courtesy call with new Ambassador at Embassy of Japan – 27th of May 2016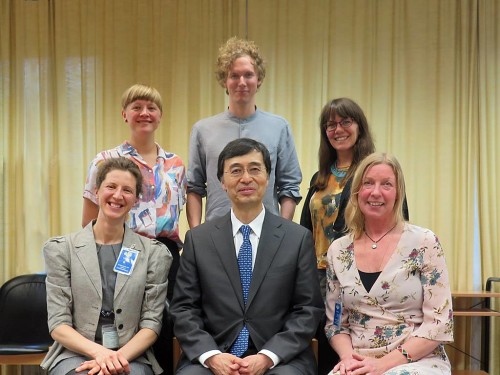 From top left: Karolina Leopoldsson (SWY23), Gustaf Rindler (SWY18), Malin Öhrman (SWY23). Front row from left: Carolina Hawranek (SWY23), Japanese Ambassador to Sweden, Mr Jun Yamazaki, Gigi Lönn Stråhle (SWY4). Picture courtesy of the Embassy of Japan 2016.
On the 27th of May 2016 we were again received for a courtesy call and a personal meeting with the recently appointed Ambassador Mr Jun Yamazaki.
This meeting consisted of a presentation of the SWY-programme, a report from the Tokyo-conference in march 2016.
The Ambassador was very attentive and inquisitive, and even asked detailed questions about the management and current political support for the SWYL-programme. It was our pleasure to contact the secretariat in order to research the answers and get back to the Ambassador's staff with written answers.
The meeting included a dialogue regarding future collaborations, especially in the year 2018 – when Sweden and Japan will celebrate the anniversary of 150 years of diplomatic contacts between our countries.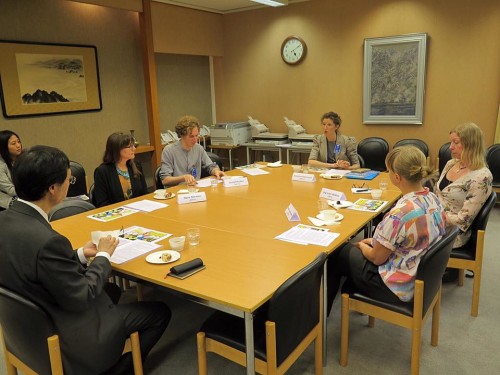 Caption: Discussion session with the Ambassador on our second Embassy visit in 2016, this time after the Tokyo Ex-PY Conference. We reported the outcomes and the Joint Statement signes by all 32 member nations in march 2016.
_______________________________________
SWYAA Sweden do already actively support and market events organised by the embassy. As an example, we use our network through social media to spread the word about, lectures, contests, screenings or exhibits.
As an example – the most read post of all 2016 on our public Fb page was the one advertising a lecture arranged by the embassy on the topic;
"Resurgent nationalism and populism: how will Japan and Europe chart a way forward?" (Monday 26 September 2016, 14.00-15.30 at SIPRI, Signalistgatan 9, Solna) With recent political trends throughout Asia and Europe, we find ourselves at the precipice of a world marked by the intersection of nationalism and populism."